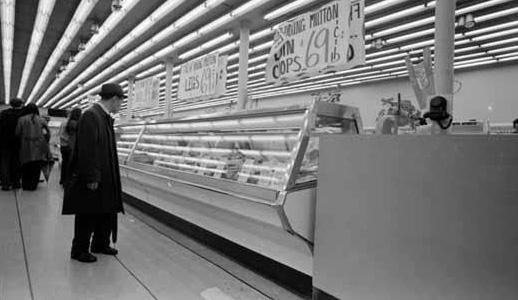 The SOM building was built in 1891, making it 122 years old in 2013. The original butcher shop was opened in 1957. The original owner Al Deslauriers operated SOM from this time until it closed in 2009. While Al is not a part of the new SOM, we take the same pride in serving this neighbourhood, which he did.
The diner is new, but the original SOM Butcher Shop featured a sandwich shop at the back, which was also known for its great burger. Timothy Taylor features the original Save On Meats in the 2001 Vancouver novel Stanley Park.
Our Neon Sign
In 1957 the neon pig sign was just one of perhaps hundreds that lit up Hastings Street, then Vancouver's main shopping and entertainment district. In fact it's estimated that at one point Vancouver had 19,000 neon signs second only to Las Vegas. Now Save on Meats landmark sign is one of the few original survivors of Vancouver's anti-neon sign laws that popped up from the 1970's onwards. The colours have been exactingly matched so that the sign you see today is the same as the one that graced the building in 1957.